With a presence of over forty years, this Japanese brand has influenced the watches landscape significantly all the while building a legacy that's both robust and fluidly creative. Right from the first digital watch Casiotron, introduced in the seventies, and the first ever G-Shock, launched in the eighties, to the latest models to date, Casio timepieces have always been a valuable addition to any watch collection. They're equipped with functions and technology that are indicative of the brand's constant quest for innovation, performance, value and contribution to society.
What additionally makes these affordable watches stand out is the versatility and ease of styling that each piece offers. Be it the Casio Vintage A168WA-1 with a stunning metal bracelet or the G-Shock Frogman that's fashioned in a rather sporty design, each watch upholds its edge and uniqueness while also effortlessly blending into your look.
So, if you've been looking to add an efficient and stylish watch to your personal repertoire of timepieces or simply invest in a timeless piece without burning a hole in your pocket, these best Casio and G-Shock watches should be on your wishlist. Durable and statement-making, these watches will surely make for a great pick and the ones listed below are some of the best options you can check out and purchase online.
7 best Casio and G-Shock watches to add to your collection
(Hero and featured image credit: Anil Kumar/Unsplash Featured and All Product Images: Casio )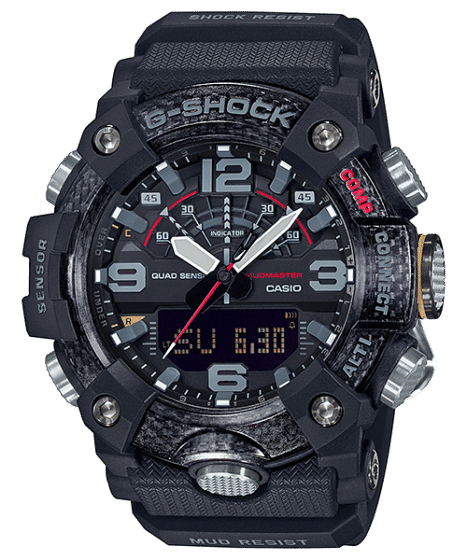 Fashioned with optimum strength and functionality to survive the extremes, the G-Shock Mudmaster is designed with a new shock, dust and mud-resistant structure. It has a carbon fibre-reinforced resin case that protects the watch from shocks while the extremely airtight carbon case and filters prevent it from dust intrusion. With a water resistance of 200 metres and a battery life of approximately two years, this watch can also be connected to your smartphones using Bluetooth and the G-Shock Connected App which allows ease of accessibility.
The World Time function features 38 time zones with coordinated universal time, sunrise and sunset display, full auto-calendar (up to the year 2099) and home and world time city swapping. To aid you in all your outdoor activities like hiking and trekking, the watch is well equipped with functions of a barometer, altimeter, thermometer, digital compass, step counter, location indicator, direction calibration and hand indication of North.
Other features include a calorie calculator, stopwatch, countdown timer, power saving mode, phone finder and double LED light (for face and backlight for digital display).
SGD 592 // Shop Here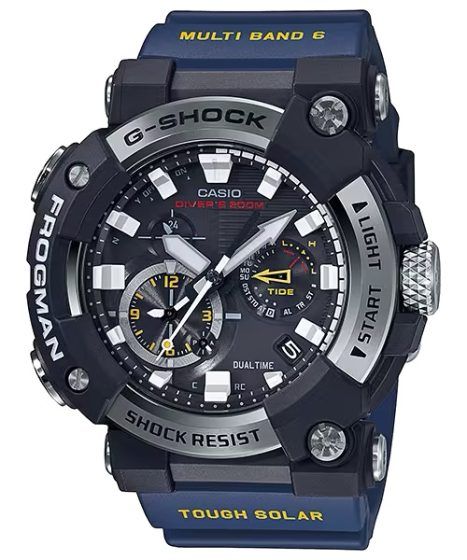 This G-Shock watch by Casio is the first analogue Frogman that takes the existing diver's watch a notch above. A solar-powered watch that can be connected to a smartphone using Bluetooth, this Frogman model with an analogue display features oversized dimensional hour, index and minute hands for enhanced readability. The watch is ISO-certified diving water-resistant for 200 metres and features a monocoque case integrated with the back cover. Additionally, the carbon fibre-reinforced resin offers durability, strength and low absorbency, the metal ring fastened with screws is fitted with the glass and the button shafts have triple-gasket fittings to offer enhanced water resistance.
The Diving mode in the watch assists by bringing together the hour and minute hands as one before starting the dive to indicate the diving time. Whereas, it also indicates the surface interval with both hands after resurfacing. Additionally, the watch features an inset dial at 3 O'Clock to display tide data for a particular date and location. In fact, the smartphone app is equipped with most of the major dive spots around the world. While the dial's Sapphire-crystal has a non-reflective coating to offer enhanced visibility, the Super Illuminator function ensures readability even in the dark and deep waters by lighting up the watch face with a high-intensity light.
The watch features world time for over 300 cities, automatic time adjustment and a phone finder function.
SGD 1,179 // Shop Here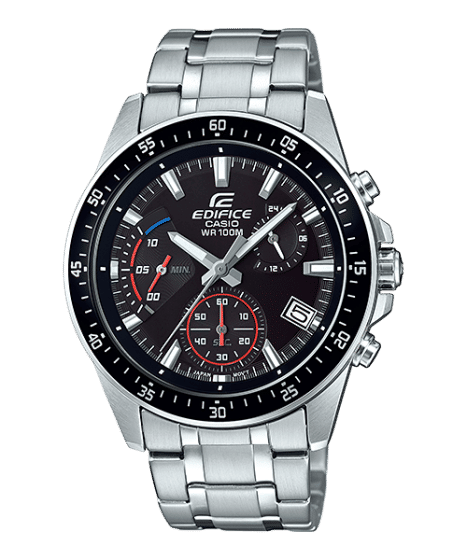 A stainless steel Casio watch that's crafted in a rather sporty design, the Edifice EFV-540D-1AV is equipped with functions essential to a standard chronograph. While the case is topped with scratch-resistant mineral glass, it has a screw lock back. The watch is water-resistant for 100 metres and has a battery life of approximately three years. The dial features a small date display window and three other inset dials indicating stopwatch minutes, stopwatch seconds and time in a 24-hour format.
RM 499 // Shop Here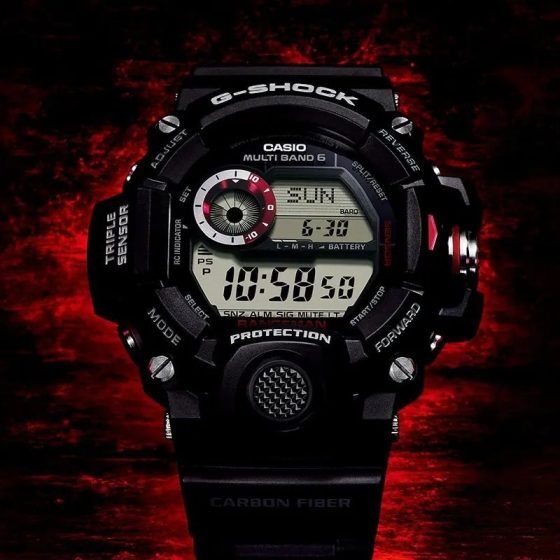 A solar-powered Casio watch that'll be a great companion for the adventure enthusiast in you, the Rangeman comes equipped with the Triple Sensor ver.3 technology in a shock-resistant body. Its three small sensors help in measuring altitude, barometric pressure, orientation, direction at high speed and temperature to aid you in surviving harsh conditions. Furthermore, the tough exterior of the watch withstands hard use while ensuring seamless operation of the buttons and easy readability owing to the wide two-level digital display that's functionally laid out.
Water-resistant for 200 metres, the watch features world time in 31 time zones with coordinated universal time and sunrise and sunset display. Additional features like a stopwatch, countdown timer, full auto-calendar (up to the year 2099), LED backlight, power saving and battery level indicator make this piece a highly useful one to own. The approximate run time of the watch varies between eighth months (on a rechargeable battery with normal use without light exposure after charge) and 23 months (on a rechargeable battery when stored in the dark with a power saving function turned on).
SGD 559 // Shop Here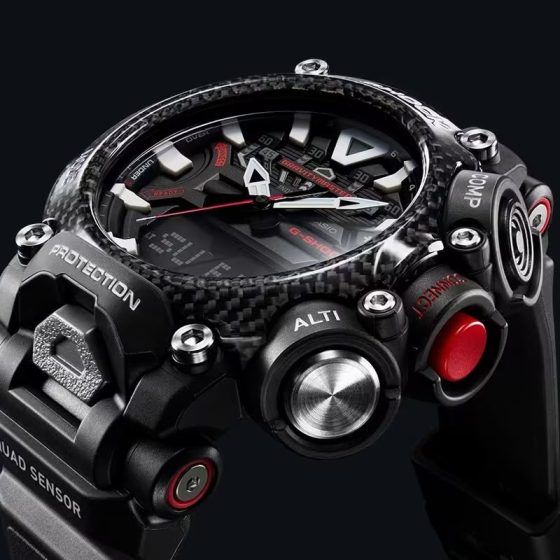 The G-Shock Master of G-Air Gravitymaster has a Carbon Core Guard structure that's super durable and highly shock-resistant. With water resistance of 200 metres, it comes with a battery life of two years and a Quad Sensor function featuring an altimeter, a barometer, a thermometer, digital compass and step counter.
This Casio watch is also equipped with other essential features including power saving, a countdown timer, stopwatch, double LED light, full-auto calendar, mute feature with button operation and alarms. The world time with 38 time zones and sunrise and sunset display further adds to the usefulness of this watch.
SGD 509 // Shop Here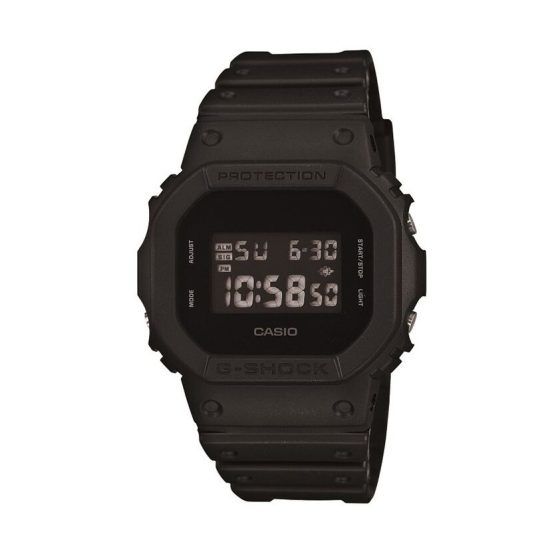 Curated in a rather simplistic design but with a tough exterior that's suitable for even extreme sports, this classic G-Shock watch is a must-have. Fashioned in resin material in a matte finish and mineral glass, the watch is extremely shock-resistant and water-resistant for 200 metres. Necessary features like a stopwatch, countdown timer, multi-function alarms, flash-alert feature, full-auto calendar and an electro-luminescent backlight add to its efficacy. Additionally, it has a battery life of up to two years.
SGD 126.70 // Shop Here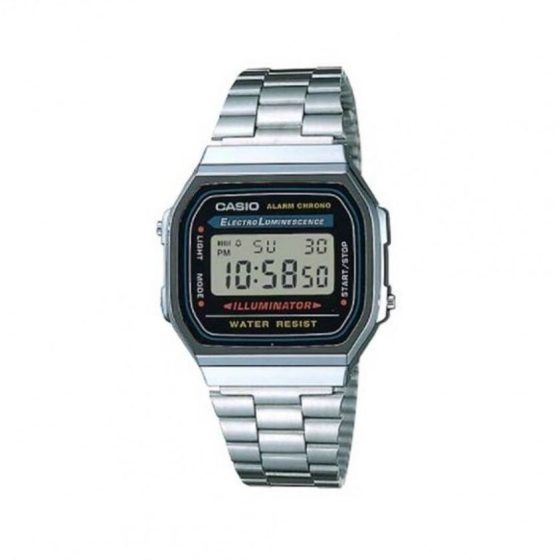 The A168WA-1 is a classic Casio Vintage watch that's an ode to the less is more ideology that never goes out of style. With a chrome-plated resin case and bezel and a stainless steel bracelet band with an adjustable clasp, this sophisticated design is suitable for everyday style. With water resistance and a battery life of up to seven years, the watch has features such as a stopwatch, daily and hourly alarms, an auto-calendar and an electro-luminescent backlight in a blue-green hue.
SGD 46 // Shop Here
This article was first published on Lifestyle Asia